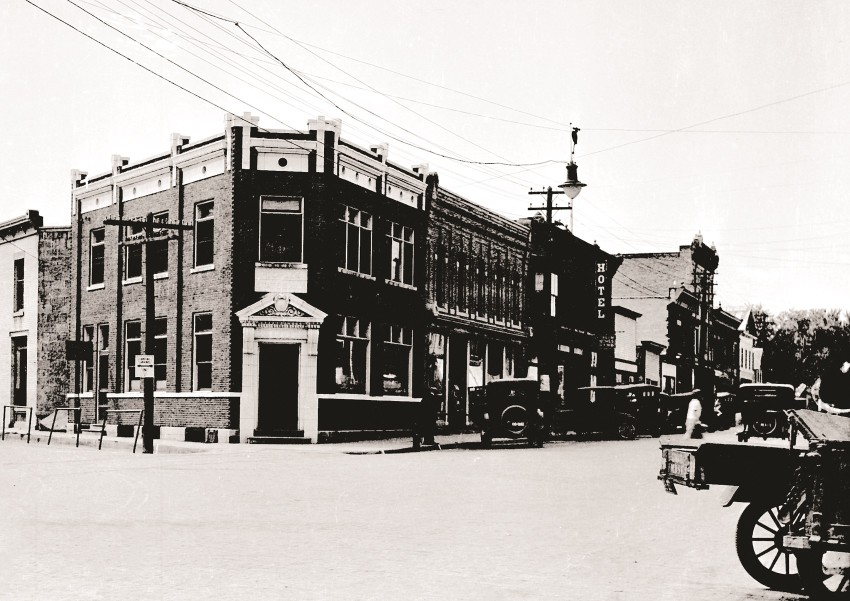 This year, Bank of Prairie du Sac is celebrating 100 years of service to the Sauk Prairie community. With this milestone, it is important to remember where we started. The Bank's long history includes a few common threads: local ownership, a local board of directors and continuing growth. As we reflect on 100 years of local community banking, we are pleased to share with you a brief history of our organization.
Bank of Prairie du Sac operates under a charter granted to the Peoples State Bank on March 22, 1916. The original bank was located at the corner of Galena and Water Street in Prairie du Sac, where it opened for business on March 5, 1917.
Another bank began in Sauk City in 1868. J.S. Tripp founded the Sauk Bank and received a state charter in 1898. Tripp died in 1915 and is buried in the Sauk City cemetery. He remains part of our community as he gave funds to begin the Tripp Memorial Library. His impact was beyond Sauk Prairie, however, since he willed a large part of his estate to the University of Wisconsin, Tripp Hall is named in his honor.
The first Sauk Bank building on Water Street Work started on a new building at 580 Water Street in April 1921. The new building opened January 9, 1922. Unfortunately, Olson had invested in notes and securities from North Dakota which led to financial difficulties. A few years later, the Sauk Bank closed.
The Prairie State Bank opened in the new Sauk Bank building on May 16, 1925. Issac C. Evans was president. Prairie State Bank moved into the "wonderful bank building" built by the Sauk Bank, the News said.
In January 1932, the Peoples State Bank and the Prairie Sauk Bank merged to form Bank of Prairie du Sac. The founders were business executives, farmers and community leaders. All employees from both of the banks were retained. Joseph B. Ragatz served as the first president until 1921; only six presidents have served under the bank's charter since 1916.
Business continued despite the Great Depression. In Sauk City, the Pioneer Press, a German language newspaper since 1853, began publishing in English in 1929. Two events brought the villages closer together. The village government created a joint sewerage commission in 1936. People of the two villages joined in a grand centennial celebration in August 1938; August Derleth served as pageant production chairman and composed a poem and ode to the Sauk Prairie pioneer.
World War II placed strains on the community as young people went to war. A powder plant, Badger Ordnance Works, opened north of Sauk Prairie and workers crowded into the area. The Bank was very busy serving the influx of people.
As peace returned to the country, the banking business maintained its familiar, friendly ways. Edward Gruber, son of one of the founders of Peoples State Bank, was elected vice president in 1956. Edward, who earned a business degree at the University of Wisconsin in 1932, was elected president in 1957.
In 1967, the officers determined that a new building was needed to accommodate growth. Architect Edward Solner of Middleton designed the new Bank for efficient operations. The new bank was built at 280 Washington Street, across from the post office, and on Park Avenue (see photo on right). The building on Water Street, built as the 2nd Sauk Bank location (shown above) was sold to the Masonic Lodge.
Charles (Charlie) Ploetz purchased Gruber's financial interest in the Bank in 1971. Gruber continued as president and chief executive officer until 1975, when he retired at age 65. A legal background for Ploetz, plus his education at Harvard Graduate School of Business assisted him in learning the banking operations. Ploetz served as president from 1976 to 1989 and as chairman of the board from 1990 to 2006. The Bank, in its 90th year, was saddened by his passing. Steve Ploetz, Charlie's son, came to work at the Bank as a loan officer after his graduation from the University of Wisconsin Business School at Madison. In January 1990, he became president.
The second office of the Bank of Prairie du Sac opened on Highway 12 in Sauk City on August 22, 1991 and a new building in Prairie du Sac opened on June 23, 1993, nearly doubling the Bank's size (see photo on left). The Bank's contemporary architecture has an open floor plan with a lighted atrium and natural lighting on the lower level. The Bank now has more than $380 million in assets and is consistently rated as one of the strongest, most stable banks in the state.
This short history of the Bank of Prairie du Sac would not be complete without a thank you to the people of the Sauk Prairie area. Without your loyalty, we could not be successful.
Special thanks to John Gruber, son of former Bank president Edward Gruber, who compiled much of the history included in this story.
Bank of Prairie du Sac has grown steadily over the last century. We remain a locally owned independent community bank. Thank you to our customers and community members. Without your loyalty, we could not be successful.
Join us to celebrate our 100 year anniversary at one of our annual events such as Shred Fest and June Dairy Day.